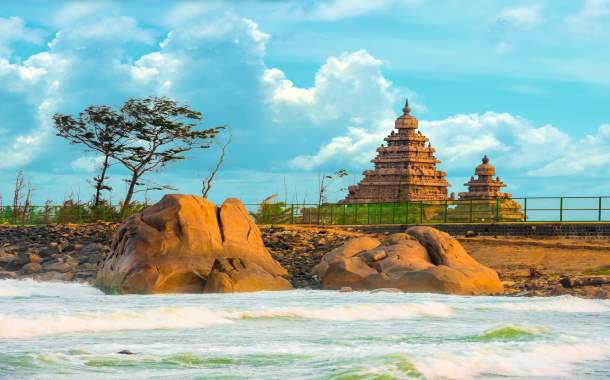 South India is a perfect holiday destination for all sorts of travellers. It is home to wildlife sanctuaries, beaches, grand temples of Dravidian architecture, hill stations, churches, backwaters, forests and UNESCO World Heritage Sites. Popular cuisines of this region include saffron-infused biryani, crisp vadas, spicy seafood, fluffy appams, dosas, Bisi bele bhath and Nawaabi kebabs, finger-licking isn't it? If you're planning a 5-day escape, we recommend you to include the below places in your itinerary.
Day 1 Chennai
Nestled on the Coromandel Coast, off the Bay of Bengal lies the city of Chennai. The capital of Tamil Nadu, this cultural city is popularly known as 'Gateway to South India'. This city is passionate about cricket, Kollywood and all forms of art. On the first day of your trip, you can explore the following places.
Kapaleeshwarar Temple Mylapore, Chennai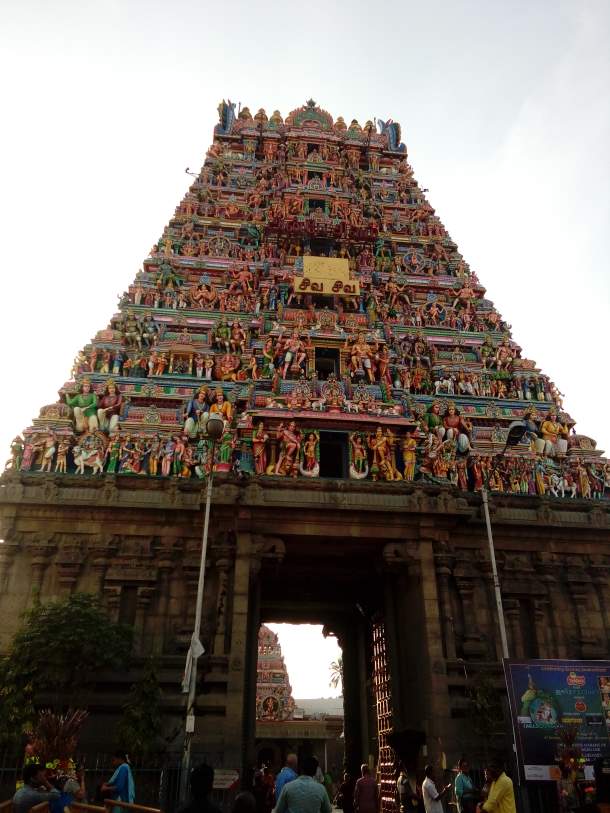 The giant gopuram (pyramidal tower) and the Dravidian styled architecture of Kapaleeswarar Temple is breathtaking. Dedicated to Lord Shiva, this ancient temple in Mylapore is the most revered temple of the city. Here, Goddess Parvati - wife of Lord Shiva is worshipped as Goddess of the Wish-Yielding Tree. According to a legend, Parvati worshipped Shiva in the form of a peacock. Mylai in Tamil means peacock and that's the reason why this area is called Mylapore.
San Thome Basilica, Chennai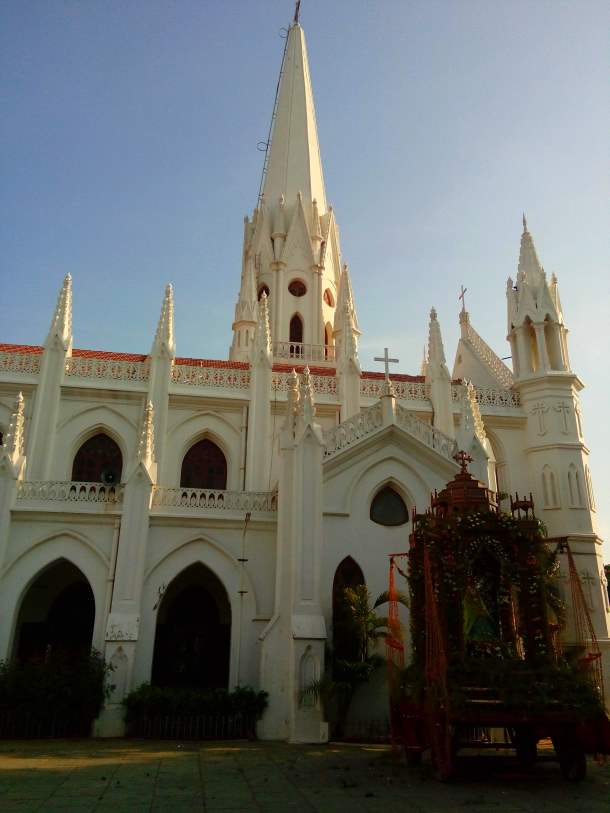 The Portuguese explorers built this basilica over the tomb of St Thomas in the 16th century. Located in Mylapore, this Roman Catholic basilica was rebuilt by the British in 1893. This British version basilica in Neo-Gothic style will amaze you by its architecture.
Marina Beach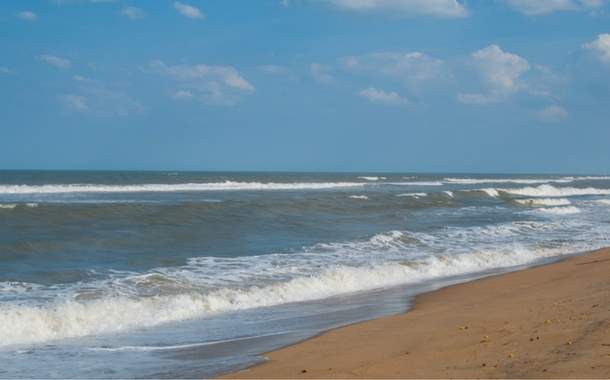 Marina beach is India's longest natural urban beach and the world's first longest natural urban beach. Along the Bay of Bengal, this glittering golden beach under the clear strip of blue sea is captivating. Best time to visit this place is during the sunrise when you can capture nature's beauty at its best. Close attractions near this beach are the Rock Fountain, Madras University and Triumph of Labour.
Day 2 Mahabalipuram
Drive towards Mahabalipuram on the East Coast Road. The town of Mahabalipuram (Mamallapuram) is located in the Kancheepuram district, approximately 60 kms south from Chennai. This ancient historic place is well-known for its artistry expertise. Even today, when you stroll around the place, you will see skilled sculptors continuing the sculpture legacy.
Madras Crocodile Bank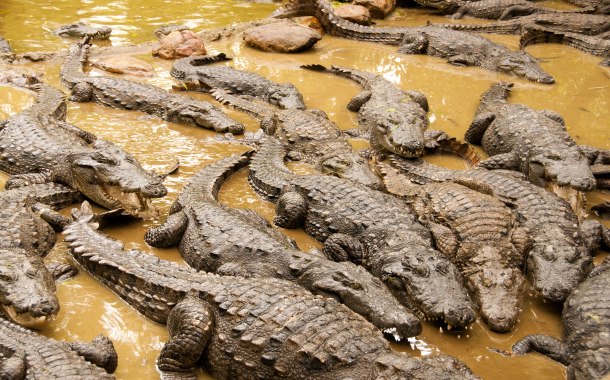 On your way, you will come across the popular Madras Crocodile Bank which is approximately 14 kms before Mahabalipuram. This reptile zoo is the first crocodile breeding centre in Asia which came into existence in 1976. It is the brainchild of Romulus Whitaker, he formed this centre for herpetology to save the endangered species of crocodile like saltwater crocodile, gharial and mugger crocodile. You can spot around 14 species of crocodiles, 3 species of snakes and 10 species of turtles at this wild park. Most surprising part of this CrocBank is that you can adopt a reptile of your choice and help in wildlife conservation. Read more about this unique crocodile sanctuary here.
Group of monuments at Mahabalipuram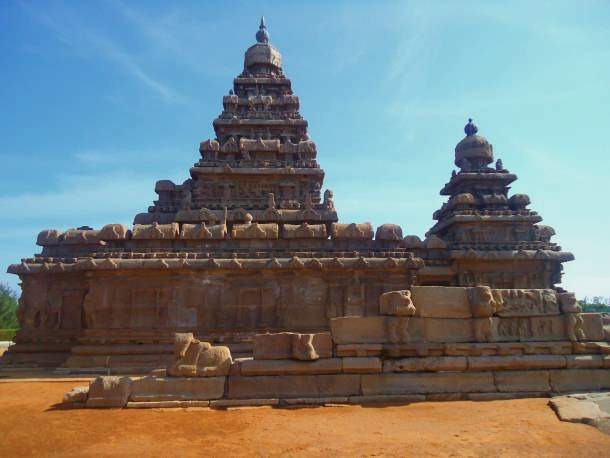 Group of monuments at Mahabalipuram is a UNESCO World Heritage Site. Known for its marvellous architecture, the impressive monuments will take you back in time. Visit the Shore Temple, Pancha Rathas, Mahishasuramardhini Cave Temple and Krishna Cave Temple and relive history. Take a look at the awe-inspiring photos of our Indian arts at these intriguing temples which will urge you to pack your bags and head out to explore this place.
Day 3 Pondicherry (Puducherry)
Popular for its French Quarter, peaceful ambience, chic boutiques, colonial villas and tree-lined streets, Pondicherry is a Union Territory town close to Tamil Nadu. Time just slows down here and its the perfect haven to rejuvenate your senses. Here's some of the famous places you can experience on your Pondicherry holiday.
Matrimandir, Puducherry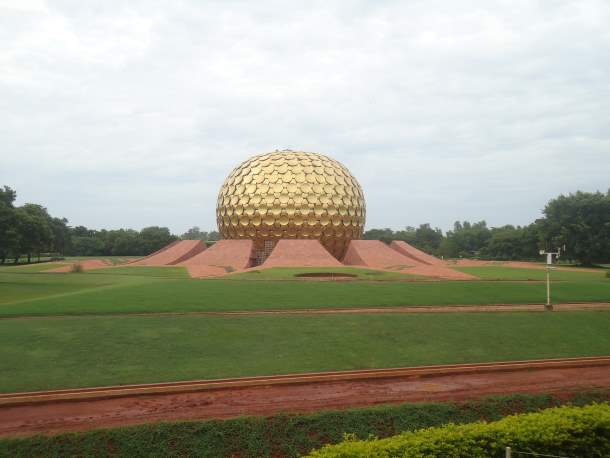 Matrimandir is a meditation centre in Auroville, an experimental township in the Viluppuram district. Matrimandir in Sanskrit means 'Temple of the Mother'. It is a symbol of Auroville's aspiration for the Divine. Situated close to the Banyan Tree, this huge gold-disc clad flattened globe (29mm high x 36m) wide is supported on four double-pillars. It's the best place for silent concentration. There is an Amphitheatre at the centre of this township.
Sri Aurobindo Ashram, Puducherry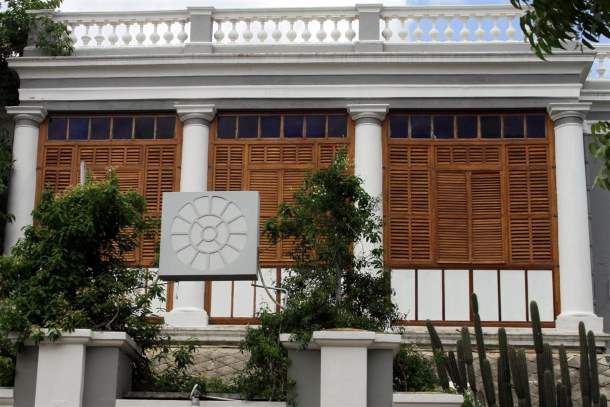 One of the unmissable attraction of Pondicherry is the Sri Aurobindo Ashram. In 1910, Aurobindo settled in Pondicherry post his retirement from politics. On 24th November 1926, this spiritual community was formed by his disciples. Later, the responsibility of this Ashram was taken by his spiritual collaborator, 'the Mother' also known as Mirra Alfassa. While you tour this Ashram, silence is appreciated. There is a beautiful garden and spiritual books for sale inside the premises.
Arulmigu Manakula Vinayagar Temple, Puducherry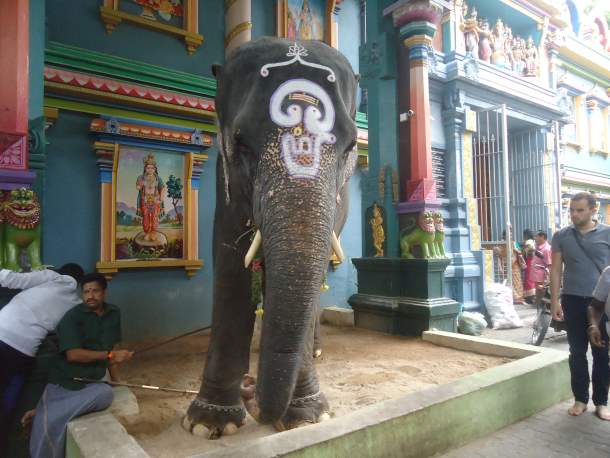 Close to the Sri Aurobindo Ashram lies the amazing Arulmigu Manakula Vinayagar Temple. It is dedicated to Lord Ganesha with splendid carvings of his different incarnations and historical events. An elephant named Lakshmi is the celebrity out here. It is a breathtaking scene to watch Lakshmi blessing the devotees through her trunk. Click to know why devotees, photo fanatics and experience seekers visit this unique temple of Lord Ganesha.
Day 4 Pondicherry
Botanical Garden, Puducherry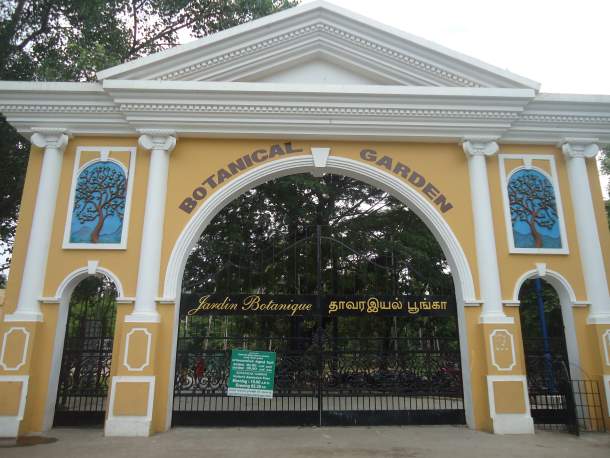 This botanical garden is a must-visit for the nature lovers. It is an old park opened to the public in 1826. Sprawling over a 22 acre land, you can unwind and enjoy the twittering of birds while you explore the rich variety of flora here. At this cool retreat, you will find varieties of tree and plants labelled with their scientific and common names.
Basilica of the Sacred Heart of Jesus, Puducherry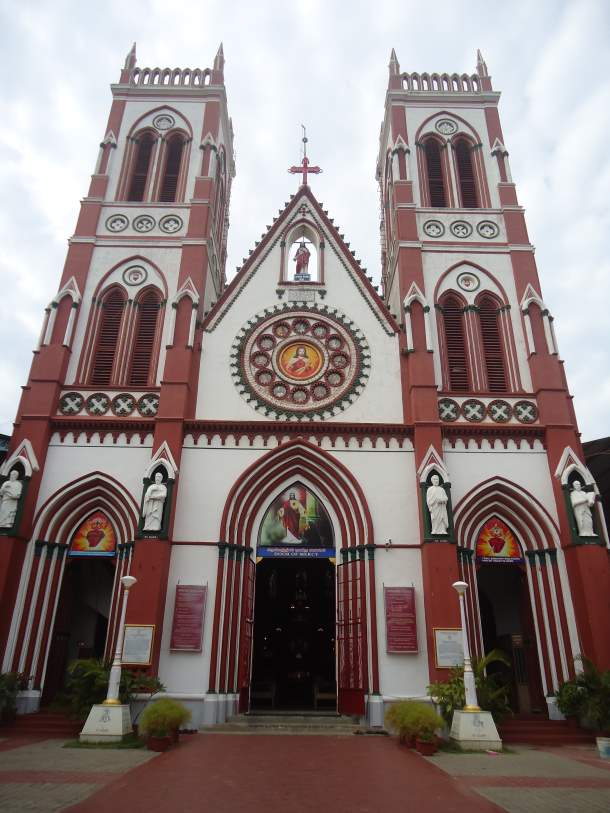 A sacred haven, the Basilica of the Sacred Heart of Jesus is close to the Botanical Garden. Adorned with Gothic architecture, this basilica will sweep you off your feet. People visit this church to see the rare stained glass panels displaying events from the life of Christ and saints of the Catholic Church.
Promenade Beach, Puducherry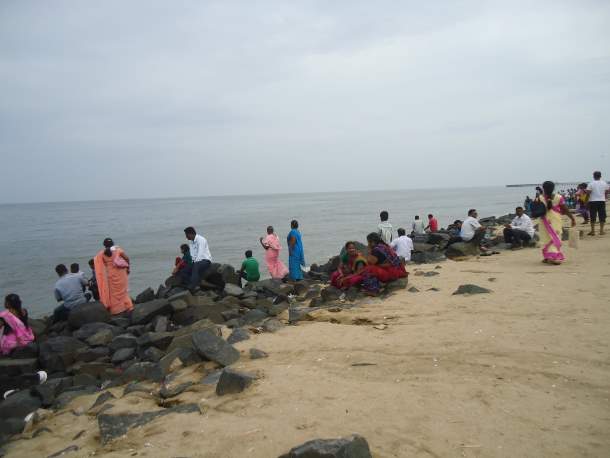 Take a leisure break at the Promenade Beach. A famous stretch of beachfront along the Bay of Bengal, this is a spot to enjoy the sea breeze and relax. You will find people clicking selfie with the huge Mahatma Gandhi statue, the main attraction of this beach.
Day 5 Chennai
Drive back to Chennai. On your way, visit the beautiful Sai baba temple which is located in Kalapet, Pondicherry.
Sai baba temple, Pondicherry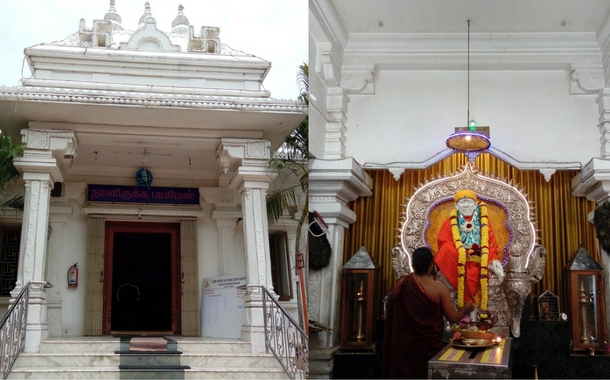 This beautiful white temple gives you the feel of the popular Sai Baba temple in Shirdi (Nasik). It is less crowded and offers spiritual bliss. Places of worship include Chavadi, Dwarkamai and Gurusthan which houses idols of Sai baba and other deities. Once you are done worshipping these shrines, you can browse through the Shri Shirdi Sai Baba Seva Store in the temple premises for sacred books and other holy articles.
Government Museum, Chennai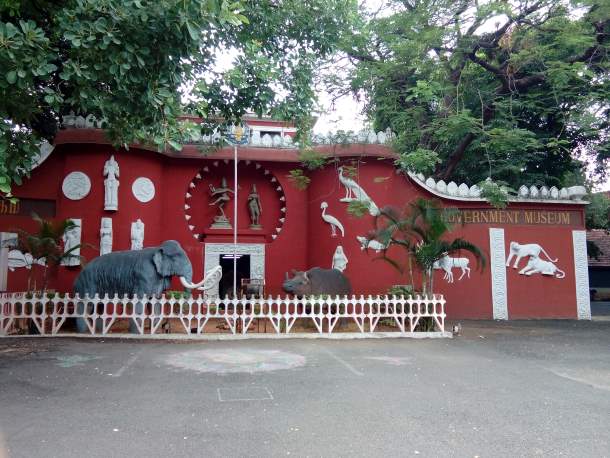 Conclude your trip by visiting the Government Museum (Madras Museum). It is one of the oldest museum in India and was formed in 1851. It is a huge museum comprising of six buildings and 46 galleries which include children's museum, numismatics, natural history, sculptures, zoology, archaeology, paintings etc. Please note this museum is closed on Friday.
Best time to visit
November to February when the weather is pleasant.
It's all about getting the best value out of your holidays. We have designed special holiday itineraries for the festive season. Explore our Best Value Holidays which are budget-friendly and have been specially curated to add an extra zing to your getaways.