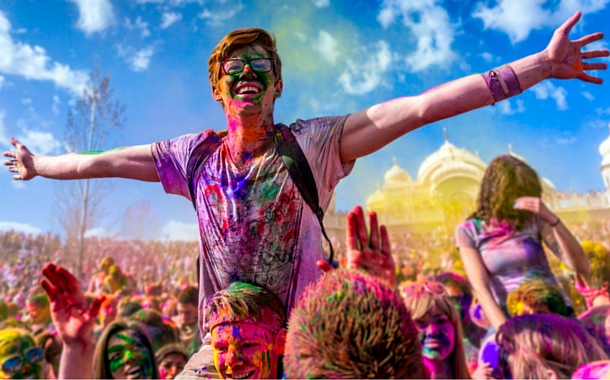 There are two kinds of people in this world: Ones that like playing Holi, and the ones that don't. I'm one of those that hate wasting water, and don't really posses the patience it takes to get the colour off me once the day is done. But I'm beginning to have a difference of opinion after having seen these beautiful pictures of Holi on Instagram. Maybe, just maybe, playing Holi isn't as bad as it seems to me. It wouldn't hurt to come together and have some colourful heads and some unrecognisable faces, as long as the festival is celebrated with a sense of responsibility; to make sure water is not used, and eco-friendly colours are used.
For most of us, as the day crawls nigh, fear of having to escape potential Holi enthusiasts creeps in. But not any longer, be a sport and brace it, let loose, it's good to be childlike sometimes. While you still have issues accepting the fact that playing Holi may not be as bad an idea, scroll through these colourful moments, and try resisting Holi this year if you can. Here are some amazing pictures that we bring to you from Instagram.
The deeply dyed hands, that naughty look in his eyes, and his happiness, makes me want to roll in colour right this moment.
People in Sydney seem to have so much fun playing Holi, I should definitely be playing this time. If playing Holi in India seems boring, head to Sydney.
There shall be showers of colours, and it shall be beautiful!
Do me a favour, let's play Holi.
Bura na mano, Holi hai!
Photo Source : Instagram
Author : Leeba Thomas