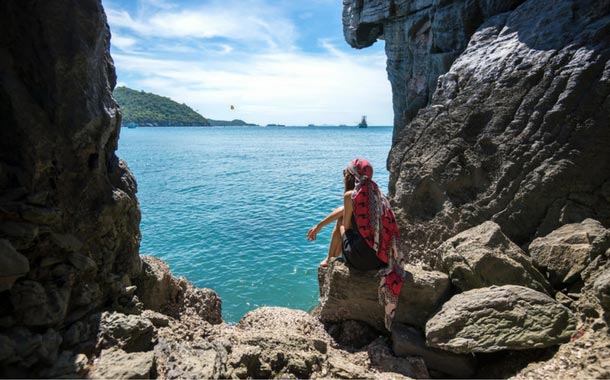 Hello you 'Homebody'! With the New Year knocking at the door, have you hammered out a plan yet, as to how to celebrate it? Perhaps yes, and the answer is "with my family", right? You are a homebody and you love your family. You probably travel, eat, shop or party with your family mostly. So this year for a change, why not do something new or rather opposite? To put in simply, how about prioritising yourself over your family and shrink your world to just around yourself even if it is only for a week!
Now you may say, what is this 'opposite' thing? Travel! Travel is it and that too a solo one. Do not indulge in self-doubt and wait anymore, book your flight tickets and spend this New Year in some other part of the world. Keeping you in mind particularly, below is a list of options for you to celebrate the New Year in style - while finding yourself!
1. Solo
Sounds scary right, especially since you hardly did it before? But seriously, take this leap of faith and start planning out your journey all by yourself (or get a professional to pull it off). During the journey take a solo walk, interact with strangers, learn a word or two, experience the difficulty in ordering indigenous food at local eateries and while taking an eyeful of every bit of the place, walk back alone to your hotel exhausted, each day. A journey made independent of others is an exceptional experience that everyone deserves to have at least once in a lifetime.
2. Group
If solo travel is a tad too presumptuous for you, then switch to group travelling. A trip such as this will allow you to get in touch of the unknown recesses of your soul. Bonds of friendships signed with new people along the journey, adjusting with nature's constantly changing whims, living in the moment and on the edge, all in toto will lend you an insight into the strength of your inner core. So don't blow hot and cold but give yourself this one well-earned chance. Start packing!
3. Party Hubs
Whether you party hard or not, do party this time on 'your own' - that is the idea! So pack your bags and get ready to party your way into the New Year and welcome it in style. If you want you can invite your best friends too, to come along with you. Allow yourself to breathe in the contagiously electrifying party atmosphere, gorge yourself on the toothsome local dishes and make friends from different parts of the world. Yes, you can have a whale of time away from your family too! Just give yourself the chance.
4. Adventure Sports Destinations
Say a big yes to new adventures! This New Year make a pledge to try at least one of these: bungee jumping, camping, cliff jumping, flying fox, body surfing, rock climbing, camping, mountaineering, paragliding, river rafting, skiing, sledging, trekking, white river rafting or kayaking! For a person such as yourself, who has experienced life within the safety of the domicile, this is a sure push to drive you out of your comfort zone. Gift yourself this chance as a present for the New Year and in return amass a huge repository of moments built out of sheer adrenaline rush! Don't miss out on this chance!
Author : Satarupa Hajra